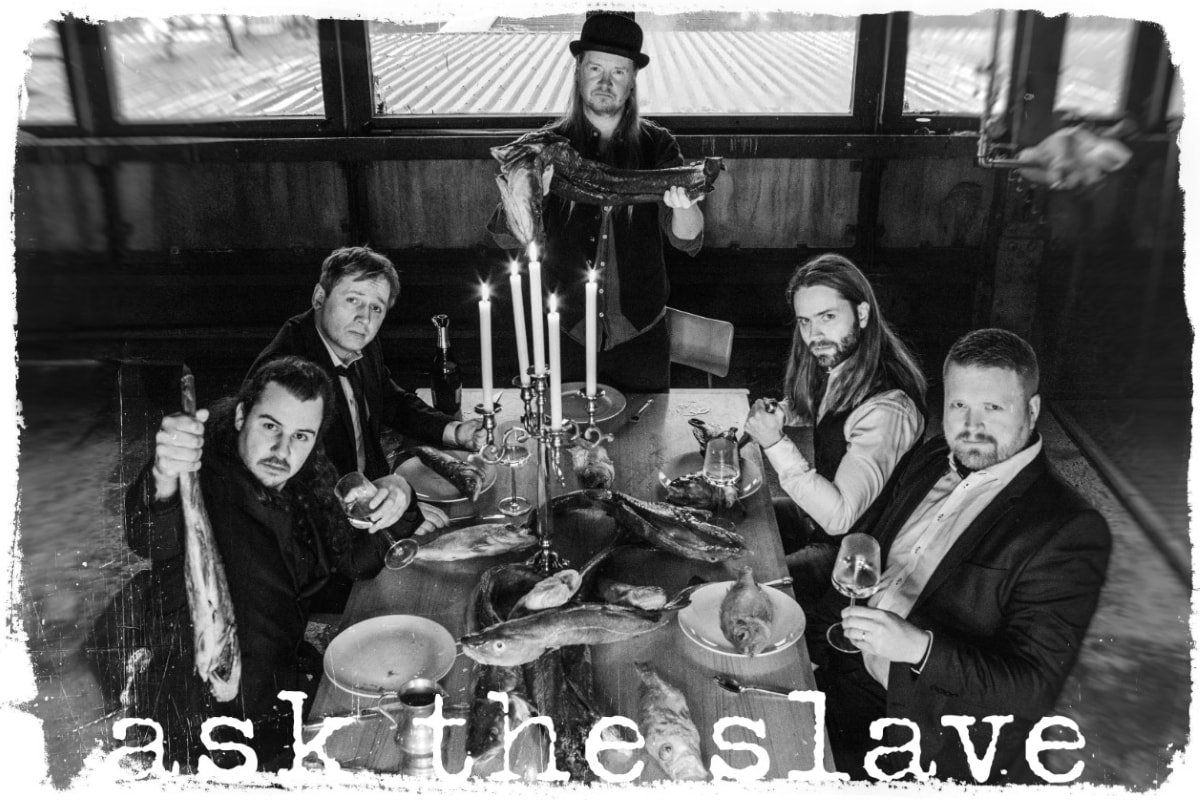 On a dark and damp, probably cold and windy winter's day, early 2004, in Reykjavík, Iceland, an avid amateur musician and literature student by the name of Ragnar Ólafsson picked up the phone and dialed the number on the poster which read "Singer wanted". "Does that ever work?" you might ask, "has there ever been a band successfully established through musicians wanted ads?" Well, yes, Metallica for one. And by now you're probably under the impression that Ask the Slave was as well. Not quite. That was a different band. But it is the story of how Ragnar met guitarist Elvar Atli Ævarsson, a fellow music enthusiast who, at the time, played with said group. Now picture this scenario, a couple of weeks later; two guys in their early twenties are bonding during a 6-hour long drive to a paying gig with a band that neither of them is very passionate about. The two young men are intrigued to learn that they share an interest in Frank Zappa, an appreciation for eccentric, forward-thinking music, and a deep passion for good ol' rock & roll. This sounds more like the beginning of a fruitful relationship, doesn't it? And it was. Although the group in question would be dismantled only the very next day following a rather disastrous gig, Elvar would remember this guy Ragnar a few months down the line when giving up on handling vocal duties in another music project of his. So, this time Elvar picked up the phone. And that's how Ask the Slave was formed.
Perhaps it's down to the fact that Ragnar was raised in Gothenburg, Sweden, and Elvar a West fjord native, both of them having recently relocated to the Iceland capital and being poorly connected to any of the tightly-knit local music scenes. Outsiders, the two of them. With no real motivation to "fit in" with a certain crowd. That might be it. Whatever the reason, Ask the Slave has always been on the fringe, indifferent to trends, welcoming of influences and inspiration from all music deemed of quality, regardless of traditions or "cool factors". This has resulted in their music being described as eclectic and unpredictable.
Within a year from forming, the Ask the Slave ensemble had recruited Valur Árni Guðmundsson from a legendary Icelandic underground metal act. Joining as a drummer prior to the recording of the group's debut, Kiss Your Chora, Valur would later switch to guitar and effortlessly adapt to the songwriting methods of Ask the Slave. Subsequently surrounding themselves with local metal cannons, Ask the Slave soon became a popular, albeit controversial, live attraction in the open-minded Icelandic metal community. This culminated in the release of 2010s The Order of Things, a bold record that received great praise from reviewers and local music nerds.
Fast-forward to 2012. Ask the Slave begins the writing process for their third record, which almost immediately is named Good Things Bad People. Then what happened? 9 years went by, fast. That's what. Well, other stuff too. Stuff like babies, families, day jobs, success and touring in other bands, depression, education, members' withdrawals. But through complicated circumstances, Good Things Bad People gradually took shape. Eventually, the arrival of seasoned rhythm duo Hálfdán Árnason and Skúli Gíslason in 2017 proved to be the ultimate shot of energy that the group so desperately needed to finally get the job done.
Good Things Bad People will be released on June 4th, 2021, by Crime Records in collaboration with We Låve Rock Music. This marks the beginning of Ask the Slave's overseas adventures, as previous releases have so far only been distributed in Iceland. That's about to change though, as Crime Records will additionally be re-releasing the first two albums, with bonus material, also offering the option of buying all three albums as a 3CD rigid box collector's item.
Discography:
Band members: 
Elvar Atli Ævarsson

 
 
Guitars & Vocals
Hálfdán Árnason
 
Bass & Synthesizer
Ragnar Ólafsson
 
Piano & Lead Vocals
Skúli Gíslason
 
Drums & Percussion
Valur Árni Guðmundsson
 
Guitars & Vocals
Information:
Interview-requests, promo-pictures, etc.: This email address is being protected from spambots. You need JavaScript enabled to view it.